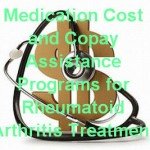 Medication Cost and Copay Assistance Programs for Rheumatoid Arthritis Treatment
Treating Rheumatoid Arthritis can be costly enough with small co-pays but many patients have have to deal with large co-pays on their insurance plan or no insurance at all. To make it easier for those in our community looking for assistance for their treatments, here is a great list of the resources available currently.
I'm sure this list isn't 100% all-inclusive, please message us if you know of others we can add to the list. The idea here is to stay positive, and keep trying! We all know the burden of costly medications; hopefully the resources listed below can be helpful in your research and quest for assistance.
Here are some foundations that help with prescription or co pay costs for medications:
Amgen Assist http://www.amgenassist.com/index.jsp
The Assistance Fund http://theassistancefund.org/
Chronic Disease Fund http://cdfund.org/
Healthwell Foundation http://healthwellfoundation.org/
insureUStoday http://copays.org/
Lilly TruAssist (Cymbalta and other Lilly medications) http://www.lillytruassist.com/Pages/index.aspx
Needy Meds http://www.needymeds.org/Rxoutreach.org
Partnership for Prescription Assistance (PPARX) http://www.pparx.org/
Patient Access Network (PAN) Foundation http://panfoundation.org/
Patient Advocate Foundation http://patientadvocate.org/
Patient Services Incorporated https://www.patientservicesinc.org/
Pfizer Helpful Answers® (Lyrica and other Pfizer medications) https://www.phahelps.com/pages/misc/Default.aspx
Together Rx Access® http://togetherrxaccess.org/
Don't forget to try the manufacturer's website or contacting them for the medication you are needing assistance paying for directly. Most pharmaceutical companies today have existing assistance programs in place (particularly for high cost biologic treatments).
Here are some of the assistance programs for biologics currently available listed in alphabetic order by medication:
ACTEMRA FINANCIAL ASSISTANCE:
Actemra Support Resources http://www.actemra.com/Support-Resources/support_resources.html
Genentech Rheumatology Co-pay Card Program (Rituxan and Actemra) https://www.racopay.com/
The Genentech® Access to Care Foundation (GATCF) (Actemra) http://www.genentech-access.com/actemra/hcp/find-patient-assistance/help-for-uninsured-patients
CIMZIA FINANCIAL ASSISTANCE:
CIMplicity (Cimzia) http://www.cimzia.com/cimplicity/patients.aspx
Cimzia Support Program http://rheuminfo.com/wp-content/uploads/2012/02/Certolizumab-Cimzia-Support-Program.pdf
ENBREL FINANCIAL ASSISTANCE:
Enbrel Support Card Program http://www.enbrel.com/ENBREL-support-card-program.jspx
Encourage Foundation (Enbrel) http://www.encouragefoundation.com/index.jsp
HUMIRA FINANCIAL ASSISTANCE:
HUMIRA Protection Plan https://www.humira.com/myhumira/financial-assistance.aspx
AbbVie Patient Assistance Foundation (HUMIRA) http://www.pparx.org/resources/2013-01-01.AbbVie.AbbVie_Patient_Assistance_Foundation_HUMIRA.809.pdf
KINERET FINANCIAL ASSISTANCE:
The KineretKare™ Program (Kineret) http://www.kineretrx.com/patient/patient-support/
Safety Net Foundation for Kineret http://www.patientassistance.com/profile/amgeninc-292/
ORENCIA FINANCIAL ASSISTANCE:
THE CIRCLE® Patient Support Services (Orencia) http://www.orencia.com/financial-support.aspx
PATIENT ASSISTANCE FOUNDATION (Orencia) http://www.bmspaf.org/pages/home.aspx
REMICADE FINANCIAL ASSISTANCE:
Co-pay Support With RemiStart® (Remicade) http://www.remicade.com/rheumatoid-arthritis/co-pay-support
Remistart (Remicade) http://www.remistart.com/
Janssen Prescription Assistance (Remicade) http://www.janssenprescriptionassistance.com/remicade-cost-assistance
RITUXAN FINANCIAL ASSISTANCE:
Genentech Rheumatology Access Solutions© (Rituxan)   http://www.rituxan.com/ra/hcp/nurses/financial-assistance/
Genentech Rheumatology Co-pay Card Program (Rituxan and Actemra) https://www.racopay.com/
SIMPONI FINANCIAL ASSISTANCE:
SimponiOne® Cost Support http://www.janssenprescriptionassistance.com/simponi-cost-assistance
Johnson & Johnson Patient Assistance Foundation (Simponi) http://www.jjpaf.org/application/patients-caregivers.html
XELJANZ FINANCIAL ASSISTANCE:
Xeljanz Co-Pay Savings Card http://www.xeljanz.com/co-pay-card
Note*** each of the above programs has different qualifications that you must fall under for approval. A lot work off of donations that go into funds for different illnesses, and those funds may get low as the year progresses. Some have income restrictions, some wont work for Medicare/Medicaid recipients, etc.
Looking for more help? Don't forget to check out these things:
State/county programs: Your local county or state may have medication or medical treatment available for little to no cost for those that qualify. There are also many free clinics or university hospitals that will work with those with no insurance. Hospitals often have charity funds as well.
Pharmacy discount cards: Whether you grab one at your local pharmacy or online, these little cards can really save money if you are uninsured or have very high copays.
Your rheumatologist office: Just ask. Many rheumatology practices have their own billing person or someone in the office work on finding assistance for their patients. It doesn't hurt to ask!! Just be honest about your situation. They may even offer you discounted patient rate at their clinic or work on a payment plan so you can receive treatment or care with them.
I hope this list helps you find the assistance you require. Sending you all love and (((pain-free internet hugs)))
Interested in becoming a writer for rachicks.com? We are looking for volunteers to keep the knowledge going to all our members.