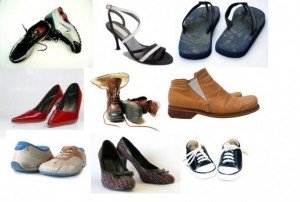 WALK A MILE IN OUR SHOES
by Niki Wyre

Welcome to one of our new projects on RAChicks.com. The purpose of this project is along the lines of "you don't look sick" in that you cannot judge a book by its cover, in this case it would be our footwear.
Each entry will be a picture of someone's shoes and their story. From high heels to orthopedic comforts to fracture boots, each pair of shoes represents a different individual that is battling with Autoimmune Arthritis. Their unique journey with arthritis, professions, and location will be shared along with the picture of their shoes.
Please check back often to see new updates on "Walk a Mile in Our Shoes".
If you would like to be featured in this awareness campaign, please send message below with picture of your feet in your shoes along with the question answers on you, your story, and what you would like included in the entry to Niki.
Click here to Walk a Mile in Our Shoes!