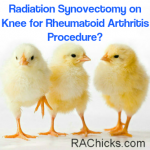 December 21, 2014
Radiation synovectomy? A Chick's message to you all:
Hi, I am being referred for radiation synovectomy on my knee after an unsuccessful surgical synovectomy. Has anyone any experience of this procedure? Thank You! xx
Have you had this procedure? Experiences or advice to share with this member? Thank you for taking the time to help answer her message. I'm attaching a link on what a synovectomy is for those of you that may not be familiar with this type of procedure for RA. I hope this finds you well. (((pain-free internet hugs)))   Here is the provided link with information on synovectomy from WebMD:
http://www.webmd.com/rheumatoid-arthritis/synovectomy-for-rheumatoid-arthritis
What our members have said so far:
Patricia – wonder if it is good for feet and ankles. I need something so bad.
Cheryl – I just had synovectomy done on my wrist. Hoping for a good outcome. Have not heard of radiation synovectomy
Rebecca Alessandra Keep us updated….Thx for sharing…
Want to add on to this discussion? Please use leave a reply comment sections below to keep this discussion going or add your own experiences.
Want to ask your fellow members in the community a question or post a message? Send it to Niki.
The above is a discussion created by a member and with member generated responses from our Facebook community (facebook.com/rachicks) put into a format so that the discussion can be archived for future answers needed by others in a searchable format while keeping member anonymity. Member provided information, statements and opinions do not reflect on RAChicks.com or all individuals with Autoimmune Arthritis. We encourage all members to seek professional medical advice for any specific questions and concerns as this does not substitute competent medical care.