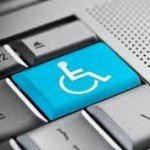 RA & DISABILITY
Welcome to the Disability section of rachicks.com!
Has your Autoimmune Arthritis caused you to become disabled?  If so, you are not alone.  The number one cause of disability in work age adults, 18 -64,  for the past 15 years has been arthritis and related rheumatic conditions.
Thinking about filing for disability or worried about road ahead?  We plan on expanding this area of RA Chicks to be able to help you along your disability journey, whether you are just starting out or already disabled due to your Autoimmune Arthritis.
 Browse all our articles on RA & Disability by clicking here.
or click on title of entry below that you would like to view:
Filing for Social Security Disability? by Christine
*Check back often to see new entries in this category*
Do you have a disability tip that you would like to share?
Interested in becoming a writer for rachicks.com? We are looking for volunteers to keep the knowledge going to all our members. Interested individuals can email Niki by filling out the form below.