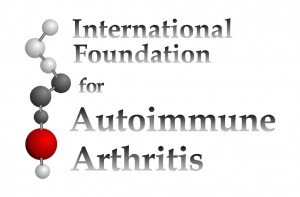 The International Foundation for Autoimmune Arthritis
(formerly known as the International Autoimmune Arthritis Movement)
by Niki Wyre
"I Am"
Their slogan:
"I Am…
A Leader for Change,
Hopeful,
A Believer in Progress,
And Rebranding Stereotypes.
I Am an Advocate for Autoimmune Arthritis."
IFAA (The International Foundation for Autoimmune Arthritis, formerly known as the International Autoimmune Arthritis Movement) is an amazing non-profit organization that is solely dedicated to Autoimmune Arthritis, the first of it's kind.  They are striving to bring awareness, more wellness programs for those with Autoimmune Arthritis, building a global network, informing the public and more.
IFAA currently has an ever growing team of volunteers to help them make the changes that Autoimmune Arthritis desperately needs.  One of my favorite new projects that they have started is their Awareness Hotline.  What is an Awareness Hotline? This Awareness Hotline makes it possible for anyone to report any article, advertisement, column, broadcast, etc., that they feel is providing false information about any strand of Autoimmune Arthritis.  I know in the past I have been very frustrated by misinformation found on different internet sites or web pages for products that claim to cure Autoimmune Arthritis.  Now there is this amazing resource to change that!
Want to help make a change with IFAA ?  Purchase the IFAA silicone bracelet to help raise awareness and raise funds for Autoimmune Arthritis.
Click here to head over to IAAM to learn more!
Want to buy your own IAAM bracelet?  Head over here.