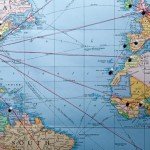 RA & Travel Center
Our Travel Center provides information on traveling with Autoimmune Arthritis, tips and techniques from fellow RAers, and products that can make your traveling easier.
Whether it's just a short drive, a lengthy road trip, a plane ride or cruise we will have you covered.  Don't let your Autoimmune Arthritis keep you from visiting family, friends or new places.
Browse all our articles in RA & Travel Center by clicking here.
*Check back often to see new entries in this category*
Interested in becoming a writer for rachicks.com? We are looking for volunteers to keep the knowledge going to all our members. Send a message to Niki of RAChicks.com.