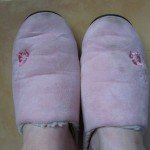 WELL WORN COMFY SLIPPERS
One of our members invites you to walk a mile in her shoes:
Q: Current Age?
A: 30
Q: Age of Onset or start of symptoms?
A: 4 Years old.
Q: Age of Diagnosis?
A: 4 Years old.
Q: Where are you located?
A: Perth, Australia
Q: What is your profession?
A: I am a qualified early childhood teacher, but currently a full time mum to my 3 year old daughter.
Q: What are your Medical Conditions or diagnoses?
A: Juvenile onset Rheumatoid Arthritis in every joint in my body, Multiple Sclerosis, Hypoadrenalism – bought on by years of steroids. Both hips replaced at 22. With shoulders soon to follow.
Q: What are your hobbies?
A: Sewing – i started with making clothes for my daughter, now i am constantly trying out new things to sew. Painting. Journal writing.
Q: What is one thing your doctor didn't tell you about your Autoimmune Arthritis that you wish they had?
A: That you never reach the end of grieving for the life you lost. You may get on and be happy in your life. But life will always be unpredictable, and there are times when it will feel like you have just been diagnosed all over again. Often it is big life changes that you may not have considered the effect arthritis would have on them. Things like finding a partner, or having children – you may have had a picture of how things would be before diagnosis and suddenly discover that things may be quite different from what you had planned. The moments will continue throughout your life, some big some little, but each time you should let yourself grieve for the loss or anger you feel at having your plans taken from your control. Then you can adapt and get on living again.
Q: If you could tell your past self something before diagnosis, what would it be?
A: You should never stop trying, at times it may seem like an insurmountable obstacle, but give yourself time and think latterly and you will achieve your goals, even if not in the way you originally set out to.
Q: What would you like to tell others newly diagnosed with Autoimmune Arthritis?
A: To not fight your body, to try to come to terms with the fact that it will always be unpredictable. To let yourself feel all the emotions that go with this disease and share with your family and friends. If you try to ignore them and tell yourself the disease will not change the way you live and try to pretend nothing will change you will only be fighting with yourself. The sooner you accept your body as it is and try to work together the easier you make it on yourself.
Q: How would you describe your personal style?
A: Casual and comfortable.
Q: What part of dealing with your Autoimmune Arthritis has made the biggest impact on you?
A: The damage done to my bones over the years. The added complications of having so many medical conditions and the fact that they keep increasing and changing.
Q: Favorite quote?
A: It is not the years in your life that count. It's the life in your years. Abraham Lincoln
Q: What are three random things about yourself that others may not know?
A: I love red tulip Easter bunnies – others just don't taste as good. 😉
In my dreams i am an amazing dancer!
I am just a little addicted to Pinterest.
Thank you for walking a mile in my shoes!
Check here to see all the blogs in this series.
If you would like to be a featured blog entry for Walk A Mile In Our Shoes, please fill out form below to submit your entry. I will need a picture attachment of the footwear you are wearing and your answers to the items listed above in story. They will be anonymous, no names given, just your information and responses.