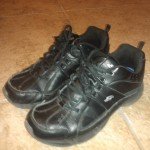 Veni, Vidi, Vici
One of our members invites you to walk a mile in her shoes:
Q: Current Age?
A: 22
Q: Age of Onset or start of symptoms?
A: 4
Q: Age of Diagnosis?
A: 4
Q: Where are you located?
A: Hemet, California
Q: What is your profession?
A: Student
Q: What are your Medical Conditions or diagnoses?
A: Polyarticular Juvenile Rheumatoid Arthritis.
Q: What are your hobbies?
A: Hiking, and writing. If I don't write my head will explode.
Q: What is one thing your doctor didn't tell you about your Autoimmune Arthritis that you wish they had?
A: My pediatric Rheumatologist was amazing, I wish I would have listened to him when I was younger!
Q: If you could tell your past self something before diagnosis, what would it be?
A: Do as they say, they know what they're talking about. No matter how much it hurts, how lonely you feel, you are a lot stronger then you let yourself believe.
Q: What would you like to tell others newly diagnosed with Autoimmune Arthritis?
A: It's a B@%*$ but you are not alone, don't hold anything in, others may not understand but if you do not say how you feel it'll get worst.
Q: How would you describe your personal style?
A: Jeans and a t-shirt, not one for style.
Q: What part of dealing with your Autoimmune Arthritis has made the biggest impact on you?
A: The emotional part, getting frustrated, scared, sad. Learning to control it all and letting go of the things I am unable to control.
Q: Favorite quote?
A: " I think emotions are a sign of intelligence and humanity. Someone who suppresses or doesn't even have them, is dangerous or simply stupid."
Q: What are three random things about yourself that others may not know?
A: As optimistic as I try to be, I have doubts about my future, I really don't like hearing when other's complain about their "normal" lives, and I talk to myself a lot.
Thank you for walking a mile in my shoes!
Check here to see all the blogs in this series.
If you would like to be a featured blog entry for Walk A Mile In Our Shoes, please fill out the submission form below.  I will need a picture attachment of the footwear you are wearing and your answers to the items listed above in story. They will be anonymous, no names given, just your information and responses.