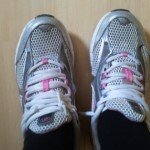 Whistful Thinker
One of our members invites you to walk a mile in her shoes:
Q: Current Age?
A: 32
Q: Age of Onset or start of symptoms?
A: 29
Q: Age of Diagnosis?
A: 31
Q: Where are you located?
A: Offaly, Ireland
Q: What is your profession?
A: previously office administrator, currently on disability allowance
Q: What are your Medical Conditions or diagnoses?
A: Rheumatoid Arthritis, and Fibromyalgia.
Q: What are your hobbies?
A: Reading, spending quality time with my kids, facebook
Q: What is one thing your doctor didn't tell you about your Autoimmune Arthritis that you wish they had?
A: That my body is no longer mine and that the road to a somewhat normal life is a long and hard one with many different treatments which might not work.
Q: If you could tell your past self something before diagnosis, what would it be?
A: Appreciate every day you are healthy and don't complain about minor trivial things because when you are sick you wish you could do even the simple things in life like clean your own home, cook your family dinner without having to plan every single part of every day to ensure you don't overdo it and end up bedbound for weeks!
Q: What would you like to tell others newly diagnosed with Autoimmune Arthritis?
A: 1. Don't struggle on alone, speak to others who are going through the same as you. Isolation will make it harder to get through each day. You need reassurance that it is not in your head and you need all the support and advice you can get. 2. Don't be afraid to ask for help from family and friends, if having someone else do your housework means you can spend quality time with your kids or doing something for yourself then do it. You will gain nothing but pain from trying to do everything yourself!
Q: How would you describe your personal style?
A: I always wear makeup no matter how bad im feeling on the inside I want to look good on outside. I used to love wearing heels but now don't even consider it so mostly wear loose comfortable clothing and trainers.
Q: What part of dealing with your Autoimmune Arthritis has made the biggest impact on you?
A: Not being able to live each day without planning for it in minor detail and how it will effect me painwise and that if going to an event will mean I will pay for it for the following week or more. I feel like its hard to look forward to an occasion when all I can see is the pain and exhaustion afterwards.
Q: Favorite quote?
A: Our way is not soft grass, it's a mountain path with lots of rocks. But it goes upwards, forward, toward the sun. – Ruth Westheimer.
Q: What are three random things about yourself that others may not know?
A: I worry a lot about the future, I am always in pain and exhausted even when I look fine, I hate being overweight and wish I could exercise.
Thank you for walking a mile in my shoes!
Check here to see all the blogs in this series.
If you would like to be a featured blog entry for Walk A Mile In Our Shoes, please fill out form below to submit your entry. I will need a picture attachment of the footwear you are wearing and your answers to the items listed above in story. They will be anonymous, no names given, just your information and responses.