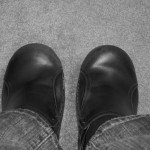 DOONEYS AND DANSKOS
One of our members invites you to walk a mile in her shoes:
Q: Current Age?
A: 41
Q: Age of Onset or start of symptoms?
A: 36
Q: Age of Diagnosis?
A: 36
Q: Where are you located?
A: Salt Lake, Utah
Q: What is your profession?
A: Benefits Representative for a large payroll company
Q: What are your Medical Conditions or diagnoses?
A: Rheumatoid Arthritis and scoliosis
Q: What are your hobbies?
A: Time with family and friends. My dogs. Gardening (although, I really can't grow anything), photography, and playing on the internet.
Q: What is one thing your doctor didn't tell you about your Autoimmune Arthritis that you wish they had?
A: I was lucky. I had a great doctor that diagnosed me. He called my husband into the room with us and told us that our lives would change forever. There was no cure, and accommodations may need to be made.  I wish I would have been warned about the extreme fatigue though.
Q: If you could tell your past self something before diagnosis, what would it be?
A: Get thee to the pyramids! I had always wanted to go tour (what you can) the pyramids. Now, I'm not so sure I could walk that much. Oh and, "don't buy a truck".
Q: What would you like to tell others newly diagnosed with Autoimmune Arthritis?
A: It will be different, but it will be ok. But go into this skeptically. Do what you need to do to stay as mobile as you can and avoid the BS, you only get one life, enjoy it. Take the drugs that help, do the research on them, and avoid the rip offs. If a "medicine" hasn't been double blind tested in a clinical setting, avoid it; you are wasting your money.
Q: How would you describe your personal style?
A: I like cute comfortable clothing, but I am cheap when it comes to clothes. I like sales. But purses, shoes and make-up, well, I like the good stuff. Danksos, Dooneys and Sephora.
Q: What part of dealing with your Autoimmune Arthritis has made the biggest impact on you?
A: Learning to accept help. I'm pretty independent. I always have been, but now more than ever, I am grateful for my husband. He's a trooper, but I hate having to get his help with "dumb" things, like opening a bottle.
Q: Favorite quote?
A: "I want to know, not believe."- Unknown
Q: What are three random things about yourself that others may not know?
A: I hurt way more than I show or say.
I get way more frustrated than I show.
I'm tired (even if you can't see it)
Thank you for walking a mile in my shoes!
Check here to see all the blogs in this series.
If you would like to be a featured blog entry for Walk A Mile In Our Shoes, please fill out the submission form below.  I will need a picture attachment of the footwear you are wearing and your answers to the items listed above in story. They will be anonymous, no names given, just your information and responses.