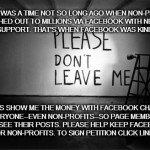 Your help is needed!
Take a minute to sign this petition from Creaky Joints (https://www.facebook.com/creakyjoints) and share! On RA Chicks : Women with Rheumatoid Arthritis Facebook page alone we are now only reaching 1/3 to 1/4 of our members weekly. Sad

To read & sign the petition to keep Facebook free for non-profits: http://chn.ge/1iBCdAk
Thank you for your help and please share! <3 Niki  Originally posted on Facebook April 20, 2014 in support of CreakyJoints and other non-profits.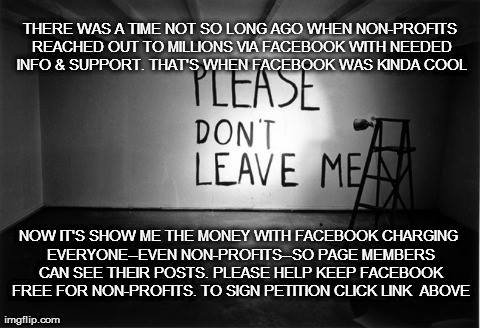 Want to add on to this discussion? Please use leave a reply comment sections below to keep this discussion going or add your own experiences.
Want to ask your fellow members in the community a question or post a message? Send it to Niki.
The above is a discussion created by a member and with member generated responses from our Facebook community (facebook.com/rachicks) put into a format so that the discussion can be archived for future answers needed by others in a searchable format while keeping member anonymity. Member provided information, statements and opinions do not reflect on RAChicks.com or all individuals with Autoimmune Arthritis. We encourage all members to seek professional medical advice for any specific questions and concerns as this does not substitute competent medical care.