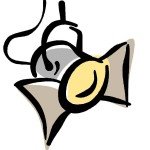 Autoimmune  Community Spotlight Blog series : Learn more about the people behind RA resources
I spoke briefly to all you Chickies on the Facebook page reference the up and coming RA Community Spotlight series of blogs that are about to start. I wanted to start it by introducing what this would entail and updating you on what you might find in store in the following weeks. Here are some Q & A that have been asked to explain more in detail.
Q: What would RA Community Spotlight be spotlighting?
A: I am going to be interviewing individuals in the online RA community that are striving to make a difference. That can mean several different things… They could run a non-profit, run a facebook page or group, run an online support group, sell awareness items, write a blog on RA or their RA struggles, use their business platform like music to raise awareness, or more.
Q: Who will be seeing on the Spotlight?
A: I have been in contact with over a dozen online leaders in RA already! Some of them may be a surprise, some not, but rest assured eventually we will get to know more about each of these individuals.
Q: What will the interviews entail?
A: Good question. Without giving specifics.. each interview will be tailored to that individual and their involvement. No two interview questions will be identical or ready made. This means that as a reader, you will receive the maximum amount of insight into that leader and what they do.
Q: Why do a spotlight?
A: Quite frankly, why not? By working together all the RA online leaders can make a greater difference. I know that I, for one, am constantly looking for more resources in coping, battling, or raising awareness in RA. Each one of the leaders bring something different to the table. Together we can make a difference and help everyone out as a whole. Where RA Chicks might provide some a place to meet and greet other Chickies, another place might offer up to date information, etc.
Q: Will there be a list?
A: As people are added to the RA Community Spotlight blog entries, their info will be posted in a permanent area of RA Chicks. This will allow Chickies or Roosters (can't forget them), to be able to scroll down through the resources and go to ones that they are looking for.
Q : Will this replace RA Chicks normally blogging habits?
A: No way! I will still be blogging as RA Chicks as well as under my personal account for my personal feelings and issues. You don't have to worry about that my friends. If there is one thing I never run out of, well it's words. lol.
I hope you will all tune in to the future installments and learn more about the online resources and the names behind them. I know I love getting to know my fellow Chickies and Roosters and I hope you will feel the same about getting to know those that bring us all together. Thank you for all your feedback and support. If there are any questions that you think need to be addressed or you would like addressed, you can contact me at form below.
See our current Spotlight here.
Browse all our past spotlights on Autoimmune Arthritis Spotlight series by clicking here.
*Check back often to see new entries in this category*
Would you like to submit a blog or article for our RA Chicks? Send a message to Niki of RAChicks.com.