NIKI'S COMICS FOR RA CHICKS
WOMEN WITH RHEUMATOID ARTHRITIS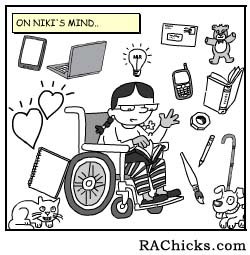 By Niki Wyre
I'm happy to share my new addiction with all our members.  Looking for some giggles or silliness?  Make sure you check out my new area of RAChicks.com for the new comics I have been creating. I have posted several in our Facebook page and my personal page so far so I thought it just made sense to give them a permanent home here on our site as well.
Let me know what you think.

 I can't stop thinking about these little comics.  They pop up in my head at random times. lol
See the new home for my Rheumatoid Arthritis comic funnies at Niki's Comics for RA Chicks.
Want to send Niki a message? Drop her a line here: