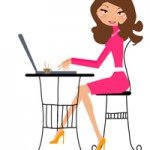 Dating with Rheumatoid Arthritis
by RA Dater
Each day is a supreme challenge for those of us with RA…shall we add dating on top of that? It can be brutal – and remember that stress is our kryptonite. I've been divorced for almost a year, diagnosed with RA for almost two years – and I can tell you girls that love IS out there.
My advice for first dates:
Don't be afraid to mention you have RA.
Perhaps not in the first five minutes…but I am a strong believer in laying all cards on the table on the first date (unless it's a brief encounter!) There is always a chance to bring it up casually – I have been horrible about going on and on about RA because men just let me talk…and talk…. I would suggest a couple of sentences about RA and then change the subject, order another drink or appetizer.
Be upfront about your physical challenges.
I am lucky in that I don't depend on a wheelchair yet, but I feel like HELL the day after my Enbrel shot, and it is difficult to open doors. I had to face the fact that the cute 40-year old workaholic who looked awesome in those pictures fishing at the lake would…..eh, eventually ask me to get up at 5am to go fishing.
Prepare yourself for questions if you are not working due to RA.
I am a CPA. This has been the worst dating roadblock for me….why am I not working? What could I possibly do all day…watch soap operas? Not that any man ever said that to me – I just inflicted the question upon myself. Be prepared to discuss what you do and don't be afraid to just say "I am retired."
Sex.
Takes all the pain away, trust me on this one.  Kidding – there are so many positions I can't even begin to attempt. I like to date older men for this reason, but if you find yourself in love/lust with someone who wants to try every position in the book, you will need Biofreeze and strong pain meds!
Want to read more stuff written by RA Dater?  Check out Confessions of a RA Dater and her others musings here.
Interested in becoming a writer for rachicks.com? We are looking for volunteers to keep the knowledge going to all our members. Interested individuals can email Niki by filling out the form below.