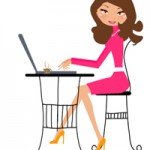 My 2012 Dating Resolutions
by RA Dater
Dear Reader
In the spirit of "Better Late Than Never!" I present my 2012 dating resolutions:
I will not introduce the fact that I have RA in an essay-length sentence. As in: I-have-rheumatoid-arthritis-it's-not-like-regular-arthritis-it's-an-autoimmune-disease-affects-every-joint-and-organ-in-body-no cause-no cure. It exhausts me to get that sentence out, and is usually met with a blank stare because my date didn't understand a word I just said. I will say I have RA, and tell them to look it up if they want a 2nd date.
I shall not roll my eyes when my date immediately starts whining about his osteoarthritis and points at his knee. Look, I get it. Most men my age have OA from playing football or other sports. I have OA, too! However, I will resist the urge to say, "Wow! I am impressed by your courage in going through life with a bad knee because of that pick-up game back in 1976. Perhaps you should have chosen drama class instead of athletics in high school." Which leads me to my next resolution:
I will listen. Learn to truly listen to a date talk about hardships and challenges outside of the RA bubble. It's taken me far too long to realize it's not all about me, and relationships hinge on give and take. I will take a moment to understand and realize it's a hard road being single, with or without RA. This, my friends – is by far my biggest challenge.
I will leave the past behind. No lamenting about what I did before RA…I want to accept my limitations and find someone that understands them without judging. I will not set myself up for failure! That means I shall not accept invitations for motorcycle riding or fly fishing. I will not make excuses for not driving or not working. I will lay everything on the table up front, and be honest – and, along those lines: please don't ask me to cook. I couldn't boil water without burning it BEFORE I developed RA.
I will find love when and where I least expect it. When love does come to town, I expect it to involve wonderful places with warmth and beauty (hot tubs optional, but desired). It's so important to pick the few things in life we cannot live without that make us happy, and find a partner that shares that dream.  


I wish all of you love and hope throughout this journey!
Love looks not with the eyes, but with the mind,
And therefore is winged Cupid painted blind.
~William Shakespeare
Love
RA Dater
Want to read more stuff written by RA Dater?  Check out Confessions of a RA Dater and her others musings here.
Interested in becoming a writer for rachicks.com? We are looking for volunteers to keep the knowledge going to all our members. Interested individuals can email Niki by filling out the form below.