[RA & Beauty] Losing Hair, Wigs and Embracing Wexy
By Niki Wyre
In late February I went to do my hair to get ready for an Arthritis Foundation event I was speaking at in Tampa, Florida. I was shocked to see how much thinner my hair was normal. I mean I had been annoyed at all the blue hairs I kept seeing in my crochet projects but figured it was a normal amount. I wasn't on any of the medications used to treat Rheumatoid Arthritis and related diseases that cause hair loss so I didn't think it was related to my RA. Since I have really thick curly hair naturally I shrugged it off. After all I had a lot to spare right?
A few days later I woke up to find out my hair was now half of the thickness as it was just a few weeks prior. The following day, I noticed my eyebrows were looking a bit sparse.
Over the next few weeks I lost more hair from my temples, all but a few eyebrow hairs that hung on and half my eyelashes. Next I noticed what I dubbed "crop circles" on my arms and legs where there was no hair. I was baffled.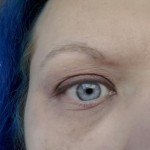 I finally ended up bringing it up to my doctor who sent me for bloodwork, put in referral for endocrinologist for my other issues as well and prescribed a topical treatment (betamethasone dipropionate) for the hair loss. She said I would start to see a difference after a month. Ack. What could I do in the meantime?
So I went to look at wigs online. I didn't want to spend a lot of money since I wasn't sure how long this would last or if I would like a certain color or cut on me. I ended up buying several cheap wigs on Amazon to give it a try and waited for them to arrive.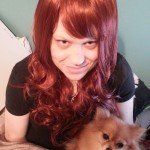 When my wigs arrived I was a bundle of nerves and a whole lot of emotions rolled up in one. After putting on the first wig I meant to say the wig made me feel sexy. Instead, thanks to my word mushing brain, I said I was wexy. Yep wig + sexy = wexy lol.
So I decided to embrace my inner "wexy" and give the wigs a try.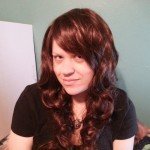 I found out that I loved the freedom the wigs gave me.
The cheap wigs I bought on Amazon actually looked like real hair and were a great quality after all. I loved changing my hair on a whim whether color, cut or style.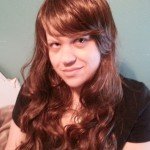 Another big plus? All the time I normally spent trying to get my curly hair to submit and styling was now just replaced with 5 minutes of donning wig cap before putting on wig then quick style of wig hair. That's it!
Oh yeah I think I can get used to being wexy..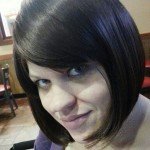 As of now I still don't know why I had the sudden hair loss in the first place. I have an appointment pending with an endocrinologist next month now that the referral was approved.
My new rheumatologist did say he thought it was thyroid related as I lost a lot of hair in the temples by the eyebrows the most. I'll let you know when I have an answer to that.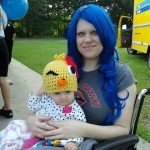 Overall I think I handled this hurdle fairly well minus the eyebrow freak-out. Seriously, I look like an alien without eyebrows. :p
I owe how I handled it to a very special teen with Juvenile Arthritis that I know. She had just recently lost all of her hair as well. She inspired me to take it with as much grace as I could.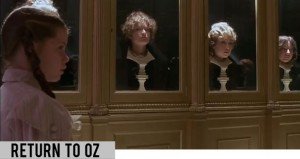 I still laugh at my wigs sometimes. For instance I often think of the scene in Return to Oz with the queen's heads in the cabinets when I see my army of wigs on the styrofoam heads on my shelving unit in bedroom. What head to wear today? Muahahaha .
Really though, if you are dealing with hair loss or just tired of wasting your energy on doing your hair, give it a try.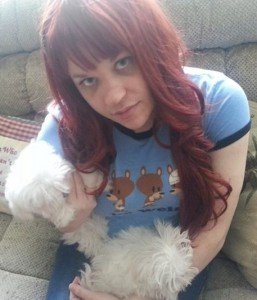 I can honestly say from my experiences that it isn't as scary as I thought it would be. The biggest part is jumping over the hurdle of purchasing the wigs. It's a very emotional step to not only admit to yourself that your hair loss requires a wig or hair piece but just to purchase the wig itself.
I still occasionally check my wig in public to make sure I haven't pulled it crooked or ask someone close to me how it looks.  My Mom actually told me several times she forgot it was a wig and not my real hair. I will take that.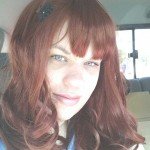 Wearing wigs has become a bit liberating for me since I first started wearing them at the end of March. I may keep up the practice even when my hair grows back in since I'm having so much fun with it.

I'm happy to report my eyebrows have finally started growing back. Yay! Don't be afraid of dealing with hair loss.
Just embrace your inner wexy. <3  (((Pain-free internet hugs)))
Oh and before I sign off, I know some of you will ask so here is link for the seller on Amazon I got most of the wigs from. They ranged from $10 to $16 each!  Now some are even marked down lower in price now.  The seller is cool2day.  See them here: http://amzn.to/1am59XA.  I think I may be addicted to them now. 😉
Want to send Niki a message? Drop her a line here: