Thinking about mobility devices can be a daunting process.  The first step can be scary to say the least.  I know that when I first broke down and started looking for canes online I had a good cry about it.   It's one thing to learn that you need to ask others for help, but it's another thing entirely to depend on something in order to get around.  I don't regret getting my cane and wheelchair though.  Without them I wouldn't get out to do the little bit that I do on occasion.
I decided I would put together this short list of mobility devices available, one in each category, to help familiarize members with and help them learn more about them.  Don't let using these devices get you down, as they truly can be a lifeline.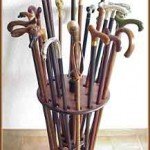 CANES
One of the first steps most of our members take in transitioning into mobility devices are the world of canes.  They help supporting a bad knee, hip, keeping balance, or even relieving some bad pain.  The drawback is if your hands are flaring, the handles can make them hurt more.  Some canes come with ergonomic handles which are easier on arthritic hands.
I love the individuality that you now can express through your cane.  You can find a cane with almost any color or decoration on it.  I like to think of my cane as an accessory more than an assistive device.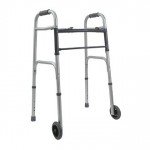 ROLLATORS / WALKERS
A step up from using a cane are the rollators or walkers.  Walkers are more traditionally used in balance issues or when hip issues are found.  Unlike a cane where the weight is just put on one side of the body to assist in walking, the walkers distribute it evenly as it supports both sides of the body.  The drawback is that it requires both arms to use, takes up more room and cane be harder to travel with.
As an alternative to a walker, there are rollators, which are more lightweight and take up less space.  Traditionally they have a small seat on them to rest knees or sit when you need breaks, and they roll on wheels.  They seem to have a much more aesthetically pleasing look to them versus the traditional walker.  I think they look a bit like a scooter.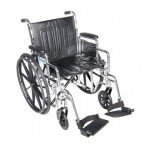 WHEELCHAIR – Manual
When a cane or walker is not enough to keep you mobile, the next stop is a wheelchair or transport chair.  I got one for family outings or for activities that require more walking than my body will allow.  It has helped tremendously.  They come in a multitude in sizes, colors, materials, and you can even customize to make it more you.
The drawback to using a manual wheelchair is that for the most part you are dependent on someone else to push you, as pushing your wheels can cause more pain or stress to your shoulders, elbows, and wrists.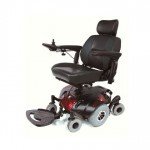 WHEELCHAIR – Powered
These babies have the benefits of the traditional manual wheelchair, plus the added benefit of being motorized.  This means you do not require assistance in being pushed around in your chair, you have control at the touch of the joystick controls.  You may have seen these at theme parks, or on television commercials.
The major drawback here is price.  They can be rather costly.  However, if you have insurance, your Doctor can prescribe one.  This means that your insurance, if it finds that you need one, will be most or all of the expense.
I hope this has helped some.  Please take a look at some of the favorite Mobility Devices of your fellow members here.
Interested in becoming a writer for rachicks.com? We are looking for volunteers to keep the knowledge going to all our members. Interested individuals can email Niki by filling out the form below.