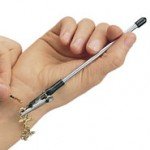 Arthritis Helpers
Conditions like Rheumatoid Arthritis can sometimes make the smallest of household tasks difficult to do. Everyday arthritis helpers can aide you in completing these tasks and more easily than before. This section of RA Chicks is to share products that your fellow Chicks have recommended that you check out.
Our Arthritis Helpers Center is here for you to see what your fellow RA Chick members are recommending.
Browse all the Arthritis Helpers by clicking here.
*Check back often to see new entries in this category*
Interested in becoming a writer for rachicks.com? We are looking for volunteers to keep the knowledge going to all our members. Interested individuals can email Niki by filling out the form below.