Arthritis Magazines
by Niki Wyre
I love receiving my arthritis magazines in the mail. I am constantly amazed by all the wonderful stories, articles, and news that I find each month in them. I recommend checking them out if you haven't already.
Here is more information on them:
Arthritis Today
Product Description
Provides a comprehensive and reliable source of information about arthritis research, care and treatment, helping the nearly 43 million Americans take control of their arthritis or related condition.
Arthritis Today is a magazine that is published and circulated by the Arthritis Foundation. You will find everything from articles on self managing your arthritis, new discoveries in relation to your condition, advertisements or product reviews for arthritis friendly items, encouraging stories of fellow patients, and much more. I have been an avid reader of Arthritis Today magazine for almost two years now. I highly recommend adding this knowledge weapon to your arsenal.
I have enjoyed the personal stories, insight on other autoimmune arthritis conditions, learning more about diet and exercise options to add to my lifestyle. I actually get excited when I recieve mine every month in the mail.
Not sure if you want to make a commitment on a subscription? No worries! Go to http://www.arthritistoday.org/ to look through some of the features and past articles from Arthritis Today. You can even request a FREE first issue to test it out. No purchase obligation.
You can learn more about the Arthritis Foundation and all that they do at arthritis.org.
Click here to order your subscription today.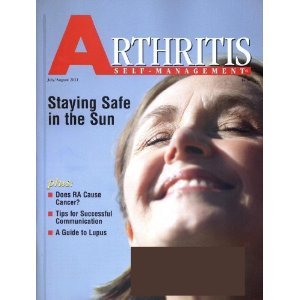 Arthritis Self-Management
Product Description
Arthritis Self-Management is a bimonthly magazine for people who want to be actively involved in managing their condition. Articles written by health professionals offer practical information and advice on topics such as treatments, exercise, managing pain, doing everyday chores, and dealing with stress.
Arthritis Self-Management is a magazine that is written mostly by health professionals, targetting patients and their needs. You can learn through articles on a variety of topics written by the top experts in their firleds.
If you sign up for their website, you will receive an e-mail newsletter FREE of charge to keep you update on all things arthritis. Check here to sign up for th newsletter today http://www.arthritisselfmanagement.com/.
Click here to order your subscription today.
Do you know of a publication or magazine that should be included in our list? Send a message to Niki of RAChicks.com.