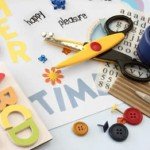 RA Paper Crafts Center
Welcome to the RA Paper Crafts section of our RA Craft Center here at rachicks.com!  This new section of rachicks.com contains free project and pattern ideas for paper crafts.  There is a variety of crafts from cardmaking to scrapbooking or even origami.  Do you have a project you want added to this list?  Use the submission form below to submit a craft.

You can see all the posts in RA Paper Crafts here.
Interested in becoming a writer for rachicks.com? We are looking for volunteers to keep the knowledge going to all our members. Interested individuals can email Niki by filling out this writers form.