NIKI'S COMICS FOR RA CHICKS : WOMEN WITH
RHEUMATOID ARTHRITIS FUNNIES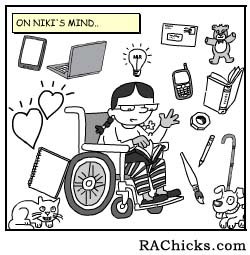 By Niki Wyre
So I've found a new creative outlet recently.  I know I don't need any more projects or time taker uppers but I really enjoy making my own funny or silly comic for the RA Chicks and rachicks.com.  If you been following me for any amount of time, you probably have noticed I use humor as medicine for my soul.  It helps keep me sane.   As you can see by this comic in header, I really do have a lot of stuff on my mind all the time.  By the way that girl in comic is supposed to be me, as close as I can get anyway.  I would like to take credit for the art but I use a comic creator with premade art online. I just add the items, place them, add storylines etc.  If you want to make some comics of your own, check out MakeBeliefsComix.com.  Be forewarned, I find it very addicting! I've made several dozen already in the past few weeks.  Not joking..
In need of some giggles?  Make sure you check out my new comics from time to time and please feel free to share with your friends

 I hope you like them as well!
Love
See all the comics to date by Niki: